Riflemen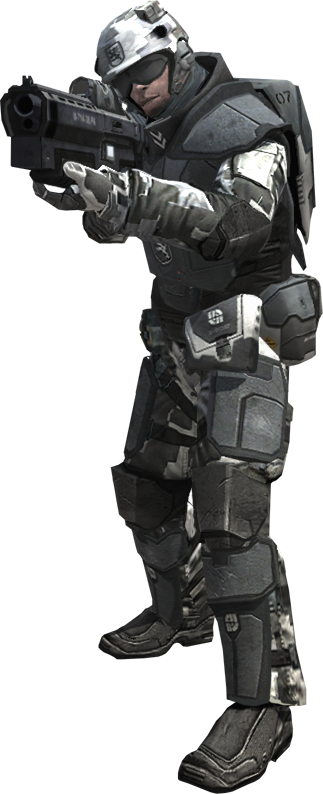 Infantry has always been the core of the UHS. Tradtionally, it is the core of every human army to ever exist. Instead of relying on mechanized suits of armor, heavy vehicles, or other forms of combat, humanity has used its strong, proud, and ready to fight infantry since the first wars waged by man. The rifleman serves as a perfect tribute to this tradition. The rifleman's verstality has proven unmatched in any and all operations. The rifleman is not only the core of the UHS' Army, but also the traditional unit used on the field, and while they are common, their job is undoubtedly important, and they are given much respect -- just as all soldiers in the UHS Military. They hold true to their motto -- 'Vae Victus' -- 'Woe to the Vanquished' in the Roman tongue, this motto was earned by the UHS' Infantry unforgiving precision, aggressiveness, and purpose in the art of war.
Combat Medic

The Combat Medic plays a busy and important job in any team. Possessing more utilities and skills than a typical rifleman and his IFAK, the Combat Medic could make all the difference in a fight when he gets his men back on their feet.
Machine Gunner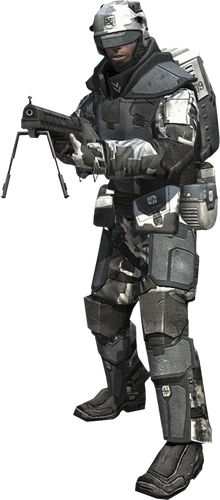 Bypassing the Automatic Rifleman role, humanity almost always deploys a machine gunner with their teams. Providing the firepower a team will need, the machine gunner can do what a regular rifleman can't, put down 400 rounds per minute. Whether it's to rip an enemy to shreds or provide suppressive fire so an element to move, the machine gunner is an important asset to any team he is apart of.
Grenadier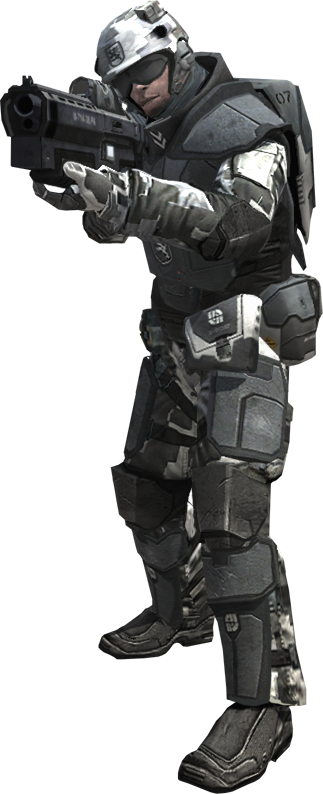 The Grenadier provides an extra punch of firepower when needed. While equipped nearly the same as a rifleman, the Grenadier has the ability to fire grenades from a small weapon that can be shoulder mounted to stability. These grenades can be hurled up to 300 meters effectively, providing an explosive punch to the enemy. Grenadiers can also fire smoke grenades from their weapons, giving their men a screen to use for cover.
All recon units within the UHS utilize the same kits up until their main weapon. They all however receive the same training, therefore every member of a recon team is capable of utilizing any weapon on the team. They are highly trained reconnaissance and logistical experts, and on the field, while they may not be able to output as much firepower, they make this up with extreme maneuverability and tactical knowledge.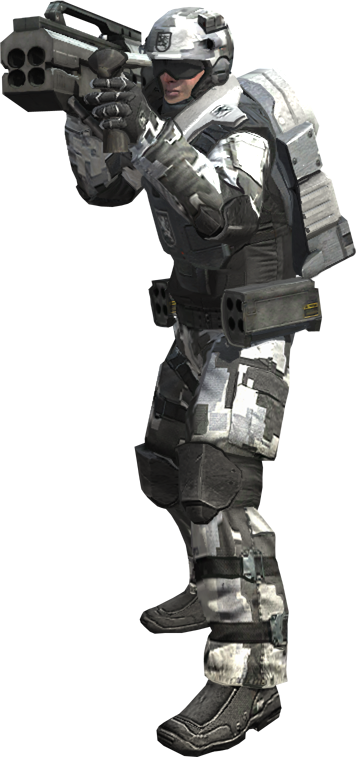 Both the AT and AA provide a critical role, which is to take down enemy vehicles and assets that conventional bullets cannot. Whether it's targeting an enemy airship or to destroy an enemy tank charging forward, both of these roles are vital to any team's success.
Team Leader
Team Leaders are highly experienced soldiers. There is no school or training facilities for new Team Leaders, this position must be earned on the field by highly experienced veterans. Only then can they go to academies to advance their military knowledge and prowl. This is to ensure that every team leader is a capable veteran of the battlefield, commanding his men with purpose and intelligence.
Imperial Vanguards
The Imperial Vanguard is an elite paramilitary of fanatically dedicated soldiers to the UHS and the Emperor. Their most common role is an elite shock trooper unit, armed with the most advanced weapons, armor and technological innovations first to storm the battlefield and the last to leave. The Vanguards are capable of serving a multitude of roles, and are expected to succeed in any scenario they are placed in. No matter the role, the Vanguard is an elite warrior with a strong appearance that can either inspire and motivate or intimidate and demoralize.
ARMIES
Modifiers:
Strong, Fanatic Militarist, Expansionist
Modified: +2 FP
LAND DOCTRINE
Strong infantry supported by armor, use of air superiority to give advantage to infantry on the ground.
FIRETEAM (14 FP, 15 HP, 3 IV)
Infantry (3 FP, 2 HP, 1 IV)
Infantry
Machinegunner (5 FP, 3 HP, 1 IV)
Combat Medic (3 FP, 2 HP, 1 IV)
SQUAD (28 FP, 30 HP, TBD IV)
Team Leader
Infantry
Infantry
Infantry
Infantry
Machinegunner
Grenadier (3 FP, 2 HP, 1 IV)
Combat Medic
Platoon (112 FP, 120 HP, TBD IV)
Squad A
Squad B
Squad C
Squad D
Company (560 FP, 360 HP, TBD IV)
Platoon A
Platoon B
Platoon C
Platoon D
Platoon E
Battalion (2,800 FP, 1,800 HP, TBD IV)
Company A
Company B
Company C
Company D
Company E
Brigade (8,400 FP, 5,400 HP, TBD IV)
Battalion A
Battalion B
Battalion C
Division (33,600 FP, 21,600 HP, TBD IV)
Brigade A
Brigade B
Brigade C
Brigade D
SPECIAL SQUADS
Weapons Squad
Team Leader
(2.5 FP, 2 HP, 3 IV)
Machine Gunner
(5 FP, 3 HP, 1 IV)
Machine Gunner
Machine Gunner
Anti-Tank
(3 FP, 2 HP, 1 IV, can fire rocket at enemy armor for 8FP)
Anti-Tank
Anti-Armor
(3 FP, 2 HP, 1 IV, can fire rocket at enemy air for 8FP)
Anti-Armor
Recon Squad
Team Leader
(2.5 FP, 2 HP, 3 IV)
Recon Rifleman
(2.5 FP, 2 HP, 3 IV)
Recon Rifleman
Recon Rifleman
Recon AR
(3 FP, 2 HP, 3 IV)
Recon Combat Medic
(2.5 FP, 2 HP, 3 IV)
Recon Engineer
(2 FP, 2 HP, 3 IV)
Recon Marksman
(4 FP, 2 HP, 5 IV, +2 accuracy)
Imperial Vanguard Squad
Imperial Team Leader
(5 FP, 8 HP, 1 IV)
Imperial Rifleman
(5 FP, 8 HP, 1 IV)
Imperial Rifleman
Imperial Rifleman
Imperial Rifleman
Imperial Machine Gunner
(8 FP, 8 HP, 1 IV)
Imperial Grenadier
(5 FP, 8 HP, 1 IV)
Imperial Marksman
(8 FP, 8 HP, 1 IV, +5 accuracy)
Admin




Posts

: 625


Join date

: 2015-12-06


Location

: Chicago




---
Permissions in this forum:
You
cannot
reply to topics in this forum