Select Personnel File.
>Specialist O'Donovan
>'Negan'
>Arakriel Celebrios
> Maximilian Vincent :: 'Majestic Max' Selected.
Loading Personnel File.
Loading...
Loading...
Unit Identification Information.
Unit Identification Image: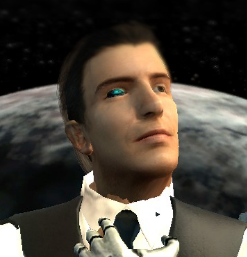 (The Face of Phazon)
__________________________
Name: Maximilian Vincent
Alias: 'Majestic Max'
Gender: Male
Species: Human
Ranking: Phazon Corporation CEO, Phazon CERBERUS sector Commander-in-chief.
Physical Appearance:
A 5'10 masculine male with a slight mesomorphic build who appears to have slick black hair with a slight rough stubble catching on. He has one eye that appears gold-yellow (Most likely from contacts) and his other eye is cybernetic. He is usually seen wearing a long coat with a business suit underneath or a vest/suit/slacks combo. He has one silver, cybernetic arm on his left side. Blue tattoos underneath his suit (Presumed, edges stick out at neck.)
Unit Vocals:
(Handsome Jack, Borderlands 2/Pre-sequal)
___________________________
Notes:
A egomaniac, a gentleman, a cheater. These words are used in union with each other to describe Majestic Max. As if his name hadn't hinted at it yet. He's considered to be highly dangerous however. Do to his linguistic skills and his position.
Considered to be mainly neutral as of 2190 with the 2nd MSRC.
Noted for trying to rise in the political chain on the Citadel. Most likely to pull more power for himself.
Has control/influence on Galactic Citadel politics. Assumed to be the source behind having Greene's Spectre removal.
Has ties to new Admiral Wilhuff Harrel.
Uses a operative known as 'Helios' to do his personal mission for him. Hyper lethal and highly dangerous.
Motives and goal unknown. So far seems to care for his company's interests.
__________________________
Last edited by Kravis on Sun Mar 05, 2017 6:52 pm; edited 1 time in total



Posts

: 133


Join date

: 2015-12-14


Location

: Texas



::> NOTES UPDATED, NEW IDENTIFICATION IMAGE ADDED



Posts

: 133


Join date

: 2015-12-14


Location

: Texas




---
Permissions in this forum:
You
cannot
reply to topics in this forum