Loading Personnel File.
Loading...
Loading...
Success...
___________________________
Unit Identification Information.
Unit Identification Image: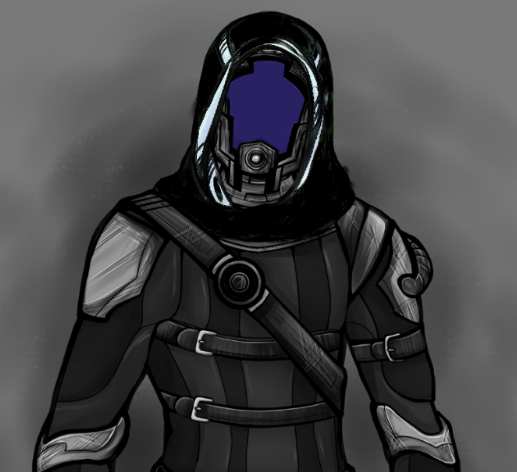 Unit Name:
Jol'Shegar nar Qwib-Qwib/vas Gunbay
Unit Gender:
Male
Unit Species:
Quarian
Unit Ranking:
Specialist, Formerly Pfc (Migrant Fleet Marines)
Physical Appearance:
A 5'11 masculine quarian wearing a heavily customized enviromental suit that shows traces of it being a variant of the Migrant Fleet Marine's suits, however, it's been customized with extra armor platings, a shield amplifier and a steel mask for his visor. He speaks with a young tone and appears to have dim, glowing, white eyes. He keeps blue cloth wrapped around his waist in a slash, The patterns match quarian designs.
Unit Vocals:
(Kenn, ME2)
___________________________
Marine General Information.
Unit training:
Migrant Fleet Marines basic
Unit Assignment: SSV Constantinople
Operational Status: Active
Unit Casualty Status: Alive
Previous Post:
Gunbay's crew, Heavy fleet's marines.
Unit MOS:
11b
___________________________
Unit Faction Relationships.
Faction Allegiance:
Migrant Fleet
Listed Liked Factions:
Alliance, Human, Turian, Elcor, Geth
Listed Disliked Factions:
Volus, Vorcha, Krogan, Batarian.
Listed Neutral Factions:
Salarian, Drell,
Hostile Factions:
Reapers, Cerberus
People of Interest
_______________________________
Unit History.
Jol'Shegar's first record of service is back when he was known as Jol'Shegar nar Qwib-Qwib. He joined alongside a detachment of quarians sent to Freedom's Progress to find a quarian known as Veetor. He thought that following in the footsteps of Tali'Zorah vas Neema would supply him with information that he could use later on his pilgrimage. However, the mission was not as easy as it seemed when he was dragged along with a quarian named Prazza to save Veetor. However, the group was attacked by a Heavy mech and Jol was injured in the fighting when a rocket sent him flying across the air until he was stopped by a building. He was able to be properly attended to and returned back to the fleet empty handed and without any information he could use.
His next step was to go to Illium in hopes of being able to scavage enough credits to afford a small vessel to bring back to the fleet. However, his plan brought no fruit and instead he was gambling out all the credits he brought with him. Now in debt and with no where else to turn. He began offering his services as a 'indentured servant' and was bought out by a Asari businesswoman who wanted cheap security. Now Jol was nothing more than a guard who earned little to no pay working for a woman he hardly knows. It was then one day that a group of Blue Suns came to collect money from his employer that he found out she was withholding money both from himself and the mercenaries. They ransacked the office but Jol did not fight back. Instead he let his employer die. Instead of killing Jol, The Blue Suns took him in as part of their 'prize'. He was kept aboard one of their ships nicknamed the "Locust" and was made to be the ship's engineer.
(Data file incomplete, Redownloading.)
Last edited by Kravis on Tue Jan 03, 2017 12:34 am; edited 2 times in total



Posts

: 133


Join date

: 2015-12-14


Location

: Texas



Updated, more to follow tomorrow.



Posts

: 133


Join date

: 2015-12-14


Location

: Texas






Posts

: 154


Join date

: 2016-05-17


Age

: 18




---
Permissions in this forum:
You
cannot
reply to topics in this forum