MARENOS, DEITY OF WAR AND DESTRUCTION

Marenos, Deity of War and Destruction, is the force behind acts of violence, wars, and destructive events. He is known for being extremely arrogant, confident, and brutal to those who dare to challenge him. While Marenos has shifted the tide of wars through his blessings and his curses, Marenos is often seen as a Deity to avoid at all costs.
Marenos does not have his own plane of existence, therefor he can step into the mortal world.
MALNITE NALBOG, DEITY OF DOMINATION AND ENSLAVEMENT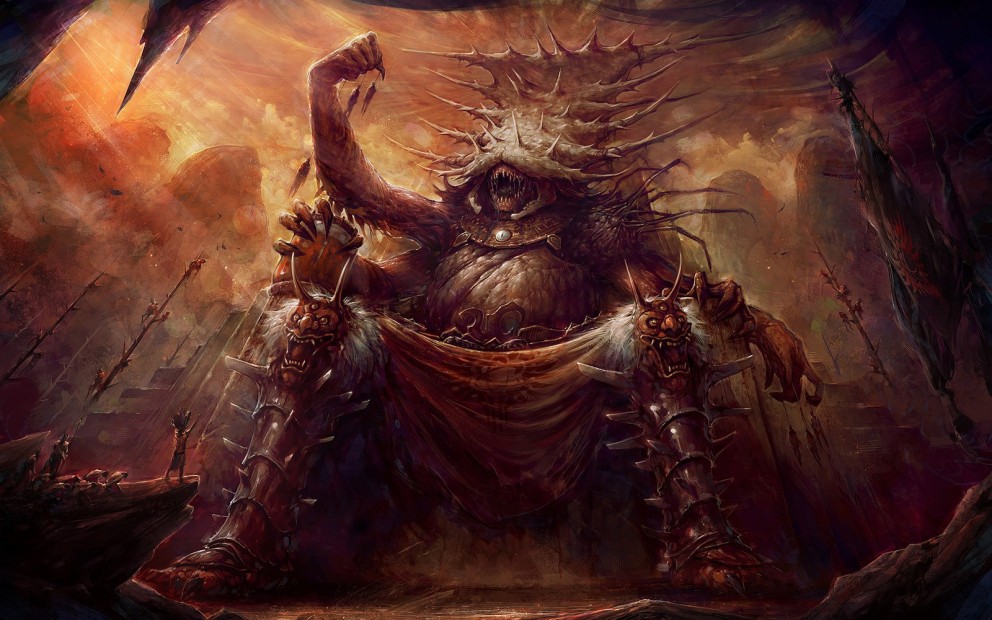 Malnite Nalbog, considered to be one of the most vile and disgusting deities, is well known throughout Bodhan Torr. Malnite Nalbog is said to lure in followers to false hopes of prosperity or power, in which he then enslaves the being into his realm to be bounded as a servant for eternity. It is said that the only way to avoid this is to show the Deity of Domination and Enslavement that you are not capable of being dominated or intimidated in the face of his wraith. 
Malnite Nalbog cannot step into the mortal realm, and has his own plane of existence instead.
LLYIUM, DEITY OF GREED AND LUST
Llyium, the Deity of Greed and Lust, represents the most personal, deepest, and darkest places of the soul. She is said to directly cause the greed and mad jealously that overwhelms some individuals,  she is often associated with money, sex, and impulsive actions. Llyium is considered to be one of the most deceptive deities, often not showing her true intentions. 
Llyium cannot step into the mortal realm, and has her own plane of existence.
VOZAGI, DEITY OF DISEASE AND SICKNESS
Vozagi, Deity of Disease and Sickness represents all things vile on Bodhan Torr. He embodies filth and disease, he dictates plagues and epidemics. Vozagi is considered to have one the largest amounts of mortal kills due to his placement of plagues. 
Vozagi cannot step into the mortal world, and instead has his own realm.
COTHAR, DEITY OF DEPRESSION AND SELF HATE
Cothar, Deity of Depression and Self Hate, is a powerful force for mortals on Bodhan Torr. It is said that when a person is driven to a deep sadness, a hatred of themselves, suicidal thoughts and self-harming actions originate from Cothar himself, placing curses upon mortal beings to inflict their minds with the darkest and evilest of thoughts.
Cothar cannot step into the mortal world, and instead has his own realm of existence. 
GALNOOM, DEITY OF REVENGE
Galnoom, Deity of Revenge, is the only deity that does not represent himself as a humanoid figure. Instead, he has chosen a legendary Leviathan as his physical form. Galnoom represents the madness that drives revenge plots and the pure rage behind vengeance. He is pleased by the act of vengeance, in whatever form it may come, whether that'd be murder, torture, or worse. 
Galnoom does not have his own realm, which means that he can enter the mortal realm.
SANGHEL, DEITY OF MADNESS AND INSANITY
Sanghel, Deity of Madness and Insanity, represents every beings individual greatest fears. He has no single form, and may appear as whatever might drive those who look upon him to insanity. Whether that'd be exploiting a fear, or an act of illusion, Sanghel is notoriously unmerciful. Children fear him as horrific tales of his exploits are told, these fears do not fade upon reaching adulthood, as Sanghel is still just as real. Many consider there to be no reason to interact with Sanghel, any say that no matter how dark your soul is, interaction with Sanghel will exploit the fears of that individual and bring them to their knees.
Sanghel is a rare deity that has his own realm, and he can also step into the mortal realm, and for this reason, he is universally feared by all mortals.
URHAM, DEITY OF DEATH, TERROR, AND CHAOS
Urham, the Deity of Death, Terror, and Chaos, is known for his straight forwardness and lack of empathy for any and all who do not worship him. Urham is praised by cultist far and wide for his desire to kill and destroy any and all, and he is known to be enlighten by the absolute terror of others. Victims of Urham and his worshipers are killed by their greatest fears brought to life. He, unlike the other deities of Malice, is known to be straight forward to his worshipers. Those who kill and incite destruction will be rewarded by him, as long as it is done in his name. This bond between him and his worshipers is unseen in any other deity, as even the most faithful of equity cannot decline Urham's seemingly contradictory honesty. 
Urham does have his own realm of existence, meaning he cannot step into the mortal world.
Admin




Posts

: 625


Join date

: 2015-12-06


Location

: Chicago




---
Permissions in this forum:
You
cannot
reply to topics in this forum